Look deep into nature, and you will understand everything better.
Albert Einstein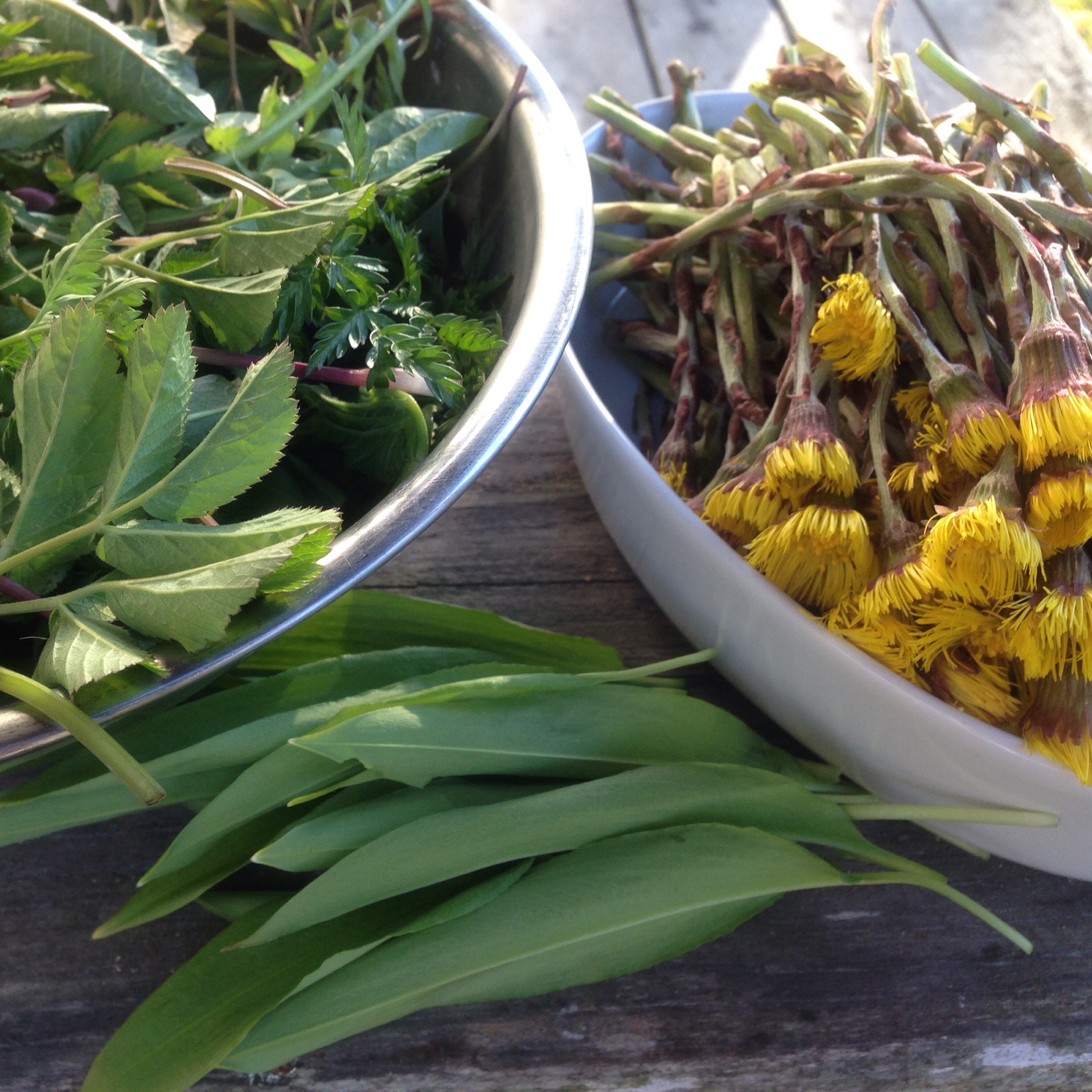 wild herbs for food and medicine
Springtime there is not so much to eat in our vegetable garden. But a lot of gardening work with digging, sowing, weeding…
At the same time it is the best time of harvesting wild herbs both in the garden and outside.
What grows where? We will do plant hikes and gather edible and medicinal herbs. Maybe we will also find some for other uses?
We will cook delicious food with what we find, make some infusions, tinctures and also essential oil.
Talk about forest gardens, permaculture and our history…

life in the woods
What is it that makes us to humans?
Among other things, the ability to use tools and with them create other tools – and the ability to make fire. With the knife, ax, saw, hand and brain power our ancestors created a life in the Scandinavian wilderness.
Do you dream of a simpler and more nature-oriented life? Then this might a great start!
Fire warms extra good in the cottage when we ourselves cloven wood and lit the fire.
The food cooked over an open fire taste fantastic. In the woods, we get a strong sense of connection and self-respect.
You will learn all you need to know about fire, lighting fires and cooking over an open fire, make your own knife adapted to your hand and your own saw for the forest.
You will also learn smart ways to handle a knife as well as how to fell trees with a handsaw and ax.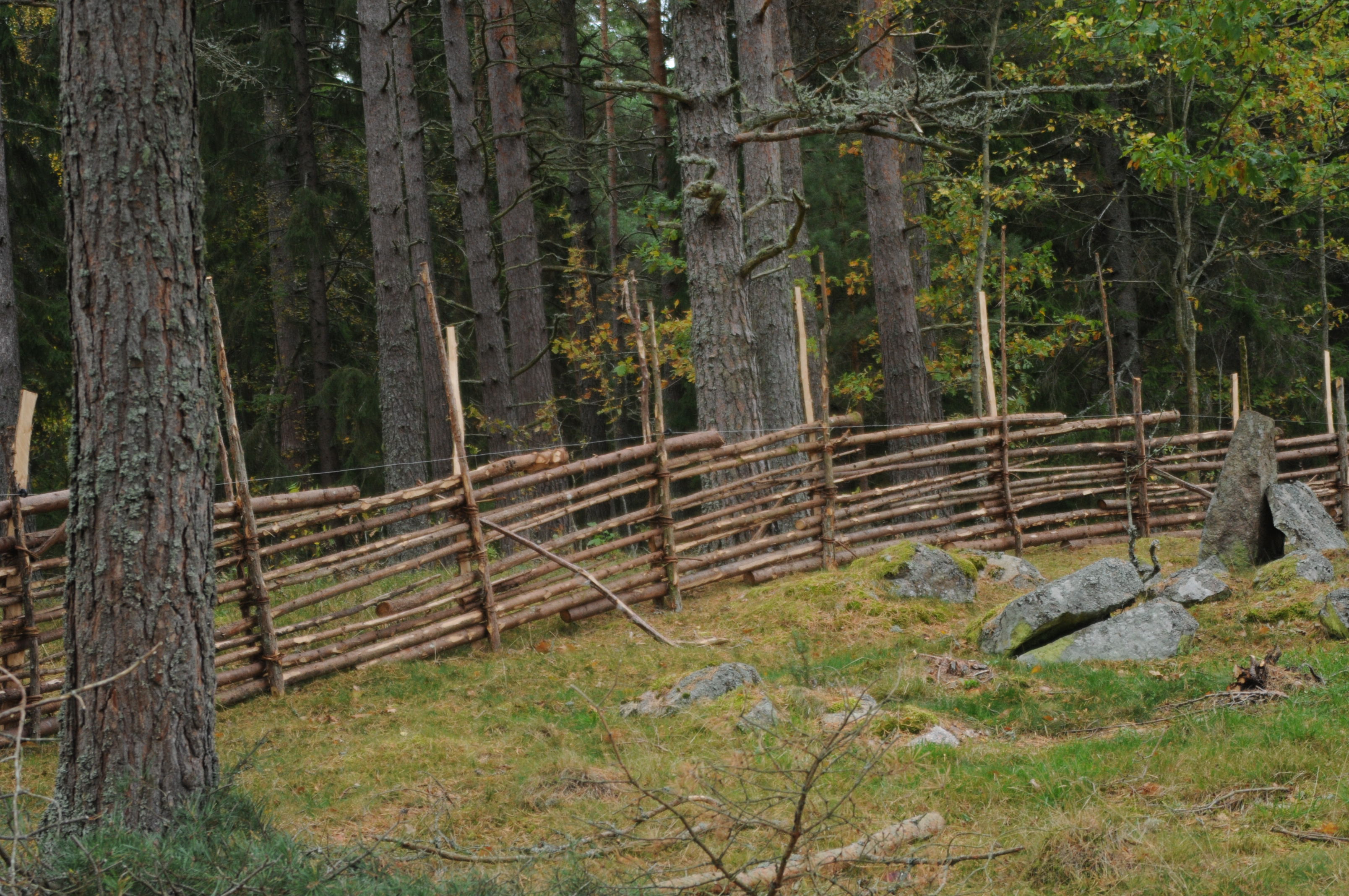 gärdesgård - fences
traditional Swedish fencing with only natural materials
from the area of Småland and Östergötland.  The fence is built with spruce poles, juniper and spruce branches.
Both beautiful to look at and practical! After three days you will know how to twist the branches, know what to look for when collecting branches and fir poles, and get into the "system". The you can just carry on at home!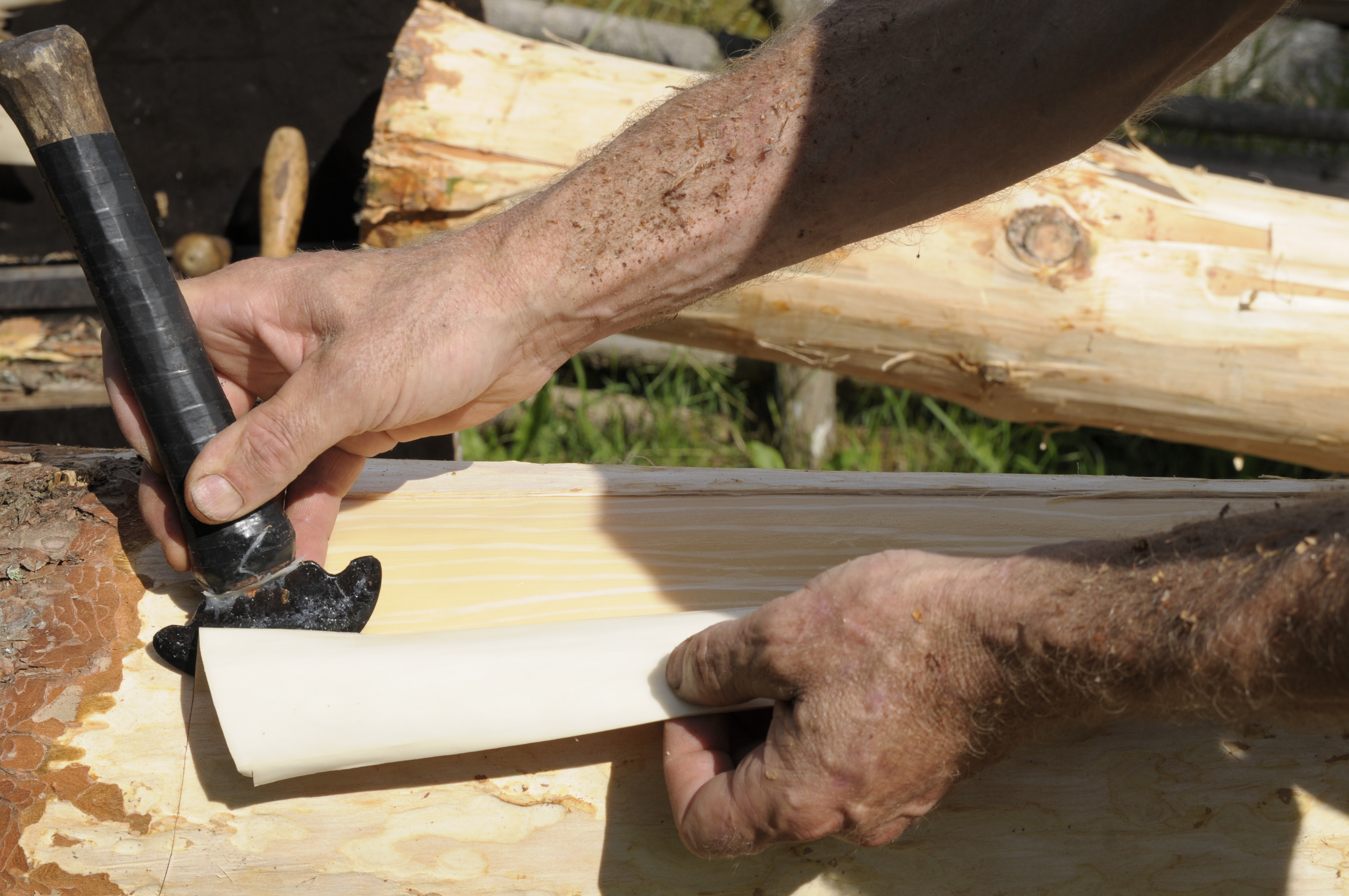 bark - a forgotten resource
Rarely we think of bark as a resource. Nevertheless it has been so important!
One charm of country life is that the year has its cycles. Everything has its time. In winter you need to cut firewood, in spring you need split it, somewhere in the spring until midsummer the sap is rising. That is the right time to gather the bark. Curiosities perhaps, but so what – the forest gets one more dimension :)
But what do you use the bark for? Lots of things! We will demonstrate how to make awesome bark meal of the pine bark,  fire making the old way with Juniper bast, using limebark for rope, birch-, spruce- and aspen bark for baskets and last but not least which bark to use for tanning…
tree climbing
Learn how to climb trees using a rope and harness. Whether you just for fun want to learn how to climb trees safely or if you have plans to learn more of how to work in trees, this is a course for you! The focus during these days will be to climb as much as possible, but also to learn more about the equipment and techniques you can use, for getting up and around in the trees safely. If you already have a harness and rope you are welcome to bring it and climb with your own equipment. An average climbing harness works great to learn how to climb with. For those who do not have their own climbing equipment it can be rented here.
The instructors are arborists who work in the trees everyday and have plenty of years of experience (www.arboteket.se ) There will be 1 instructor / 4-6 participants.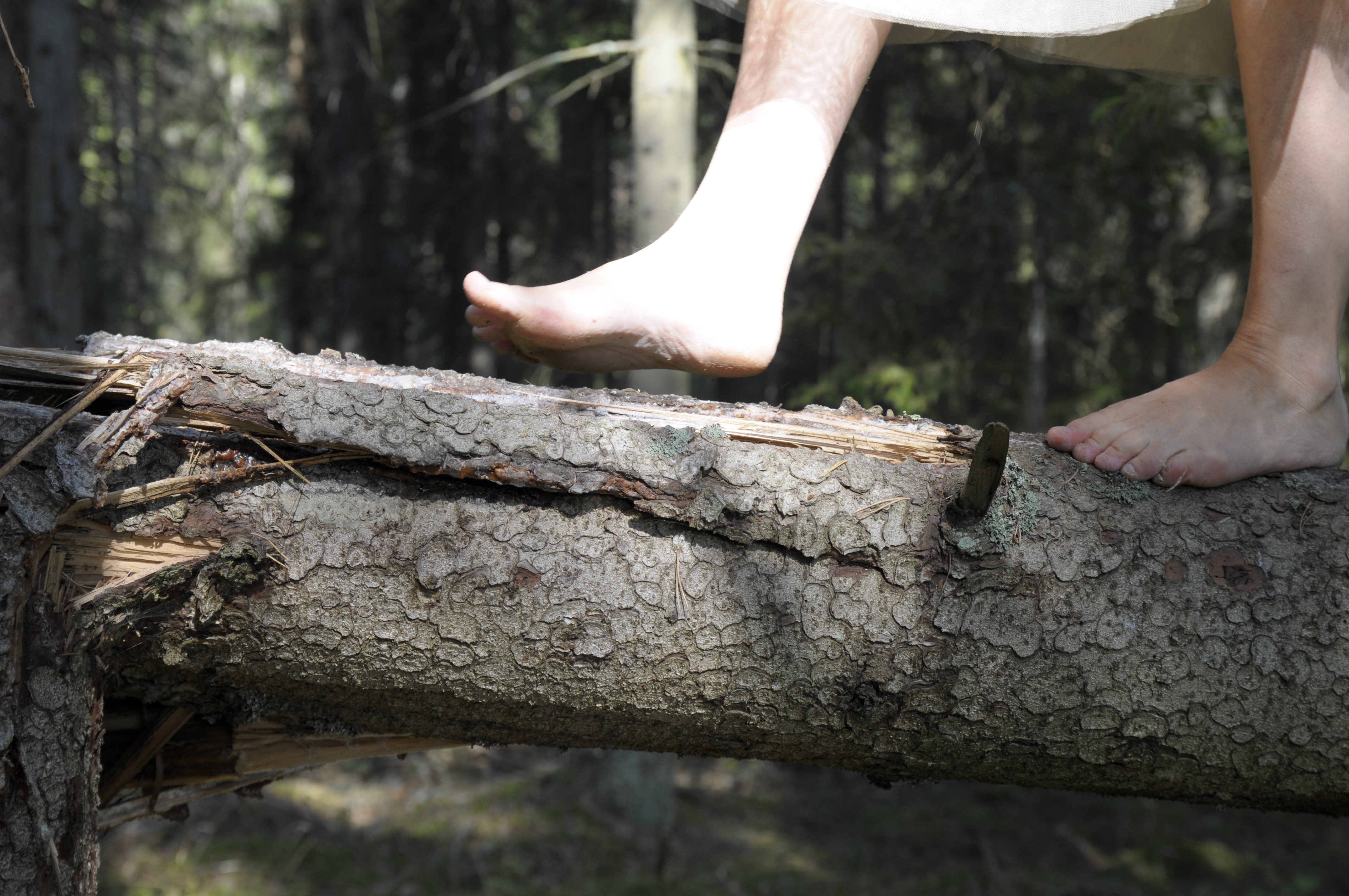 shinrin yoku
We live in the world of knowledge. But for a few days we will just experience the forest with all our senses. Experience it open minded like a child.
Shinrin yoku means forest bathing. As the animals in the forest, we will listen, smell, move quiet and cautious – and have fun together. We will be barefoot in periods if the weather allows it.
alternative forest management
Help – What should I do with my forest? …
We are targeting both forest owners and other forest enthusiasts. Together we sort things out.
To us, the forest is a source of life and inspiration.  We need a diversity of forest with many different species and other plants.
During these three days we do a deep dive into the fascinating world of forests from timber to the importance of nature conservation for forest diversity.  Learn to recognize the different tree species and their biology.
Learn about natural forest ecosystems and about the difference of modern and alternative forest management. We will also show how we at Urnatur think when it comes to forestry.

overview to our courses & their dates:
(Further down you will also find some more practical information)
| | | | |
| --- | --- | --- | --- |
| dates for 2017 | |  courses | |
| 17.05 – 19.05 | |  wild herbs for food and medicine | |
| 24.05 – 26.05 | |  life in the woods – our basic course | |
| 31.05 – 02.06 | |  gärdesgård, traditional Swedish fencing | |
| 14.06 – 16.06 | |  bark, a forgotten resource | |
| 12.07 – 14.07 | |  tree climbing | |
| 16.08 – 18.08 | |  shinrin yoku | |
| 13.09 – 15.09 | |  alternative forestry | |
quick guide to a successful booking
Life in the woods
If you only want to attend the course (without room and board) you book this under " life in the woods".
Check the date of the course you want to join (choose "3 days") and press > "search".
packages & offers
Our courses including food and accommodation you book under "packages & offers".
Check the date of the course you want to join (choose "2 nights") and press > "search".
The available accomodations to choose between will come up now.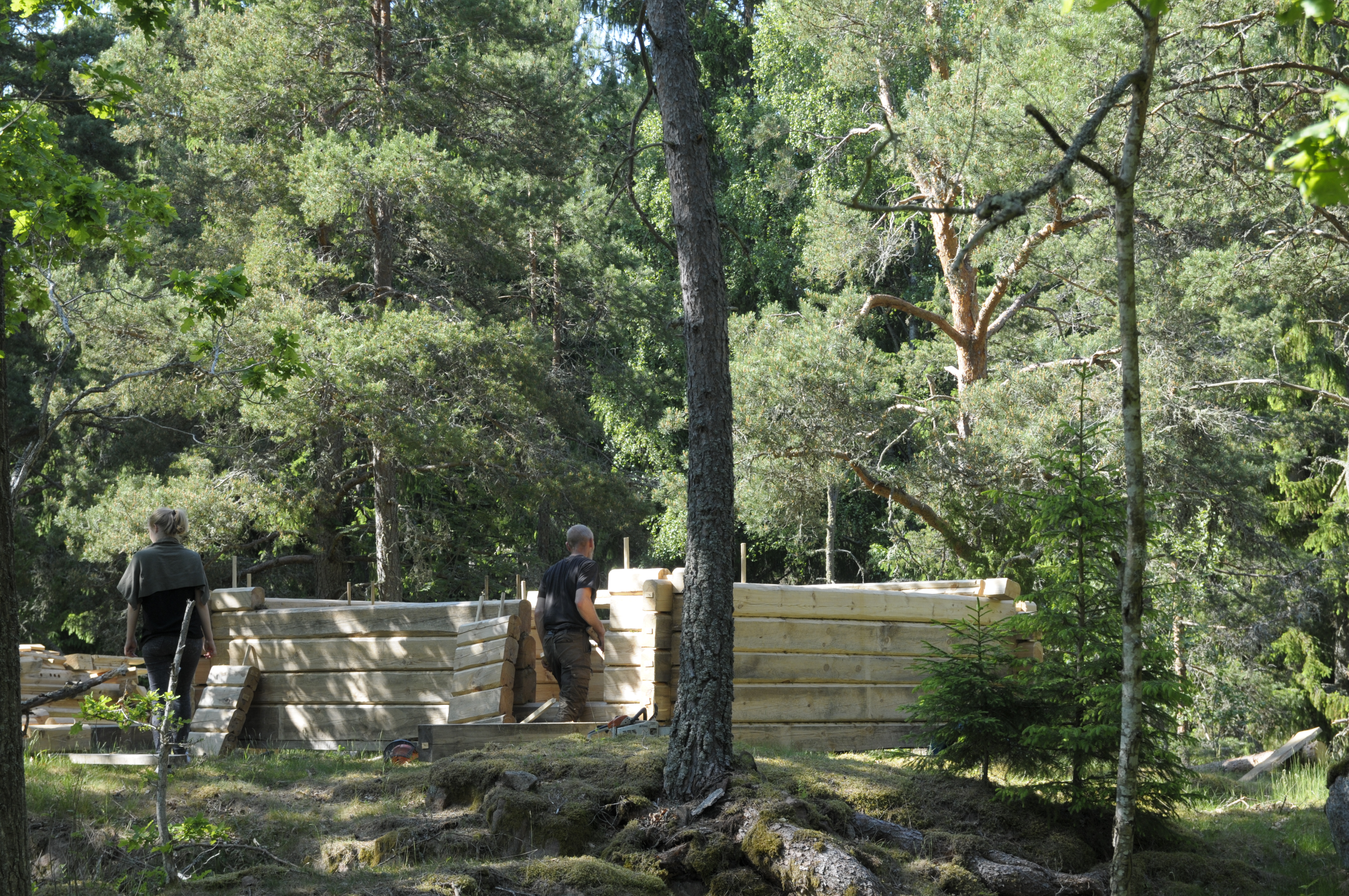 2018
There is so much exciting about forest we want to share with you all. This years courses is our first teaser.
Next year we will go on with more and other courses – all connected to the forest, like:
– building a log cabin
– forest history and how to make potash, tar and charcoal
Maybe also a special course about old forest. What is so special about it. A specialist will teach you what to look for and about indicator species.
There are more ideas – we hope YOU will be here :)

FAQ
Welcome to join our workshops. All of them are from Wednesday – Friday. You can book them with or without accommodation.

We recommend you also to book accommodation to really get the most out of your time at Urnatur.
To stay in one of our small cabins in the woods really is half of the experience.
During our courses you can book a shared accommodation. This will be the cheapest accommodation option. But of course you can also book one of the other cottages instead. Breakfast is included as well as ingredients for a dinner that you cook in the outdoor kitchen at the lake. To save time, we make a picnic lunch at breakfast we take with us. We fix thermos with tea and coffee and a little snack.
If you just book the course (without accommodation) you bring your own lunch for the day.

Structure 3 – day courses
| | | | | | |
| --- | --- | --- | --- | --- | --- |
| | Day 1 |   | Day 2 |     | Day 3 |
| breakfast | | |  9 – 10 | |  9 – 10 |
| arrival  (latest 14.00) |  13 – 14 | | | | |
| Cottages & introductory |  14 – 15 | | | | |
| course schedule |  15 – 18 | |  10 – 18 | |  10 – 16 |
| lunch | | |  12 – 13 | |  12 – 13 |
lunch
Guests staying at Urnatur: You will prepare a picnic lunch at the breakfast: Sandwiches, fruit, eggs, we will fix coffee, tea & "fika".
Other participants : bring your own lunch! Coffee, tea and "fika" is provided!

dinner & breakfast
For the dinner and breakfast it is same as the nature-nights concept. You cook your dinner in our outdoor kitchen. You can do this on your own or together with other participants.
about us teaching:
The forest is like our big common playground.
Håkan Strotz is a forester and owner of Urnatur. Håkan has built all the huts throughout the wood hermitage by himself using timber from the farm. Håkan has also a great interest and knowledge in forest history, survival, hunting and fishing and a variety of craft techniques.
Ulrika Krynitz is a forest biologist, herb educator, designer and also owner of Urnatur. Ulrika has a great interest in wild edible – and medicinal plants and the healing powers of the forest.