nature-night  2020:
05/01 – 06/15  Wednesday – Thursday – Friday – Saturday
06/28 – 08/22  all days
08/22 – 09/29  Wednesday – Thursday – Friday – Saturday
this is included:
– 2 nights in cottage or treehouse with comfortable beds
– linen and towels
– wood fired sauna at the lake
– self catering vegetarian dinner (2x) and lunch (1x) in the outdoor kitchen (meat -lamb from our farm- can be ordered extra) with vegetables fresh from our organic garden
– access to canoes, dock, bikes, SUP boards…
– nice breakfast buffet (with eggs, homebaked sourdough bread, chaga and herb tea from the farm..,)
– access to our forest bath- area

– 10% discount on your booking if you stay four or six nights!
Welcome to be our guest here on the farm for the time of your stay! During your nature night(s) it is up to you how involved you want to get…
You cook your meal over the open fire, maybe you even can add some fish you got from the lake or wild strawberries from the forest… If there is work on the farm – like haymaking – you are welcome to help out if you like – or maybe you just want to lie in the hammock reading a good book – or hang out at the pier and take a swim once in the while…
FAQ / frequently asked questions
pricing and dates
The prices vary from hut to hut: but generally more for the treehouses and less if you are more than 2 persons/hut…
Normal/average price for a nature night is 1500,-SEK/p and night including meals.
about this place in a few words
Stay in a comfortable genuine unique hand-made log cabin or tree houses in natural wonderful setting. Old farm forest, ancient cultural landscape with grazing animals and lake…
In the wood hermitage´s huts and tree houses, there is no electricity. However, there is both power outlets and internet access in our community house at the lake where also breakfast is served.
can we choose our favorite hut on the booking site?
Absolutely!
On the calendar you first choose arrival date and then departure date.
You also choose how many huts you need. If you are four adults for example you can for example choose either one hut for four people or two huts with two in each. After that don´t forget to choose "search" and all huts that are still available will come up with pricing. Here you can also click on the name of the hut and get more information and pictures of the different alternatives before you finally choose hut and continue your booking.
How does the nature night concept work?
We provide you with ingredients – you cook over the open fire. Fun for all ages…
In the outdoor kitchen we provide you with organic ingredients for a vegetarian dinner including vegetables and herbs from the garden and all ingredients you need to cook a nice vegetarian meal for dinner to be cooked over the open fire. The kitchen is close to the lake, sauna, canoes and swim platform.
do I have to eat vegetarian?
The nature night – concept is vegetarian, but you can order extras as lamb from our farm (fillet, mince, stewing steak).
You pay these extras when you check out.
can I get a beer or a bottle of wine?
We are fully licensed and are happy to offer you some wine or beer.
We also are happy to be able to offer you a little collection of interesting nature wines. Nature wines are  without any additives. All sugar, color, taste and yeast comes from the grapes themselves :)
You pay these extras when you check out.

what is included in the outdoor–kitchen ?
Here is everything you need to cook outdoors. There is a small grill, several Muurikka – hobs, pots, frying pan, drinking, glass & cutlery, dry wood, a kerosene-powered refrigerator.
You can either make a fire in the kitchen or anywhere where there's a fire down by the lake.
There is also a propane stove and oven.
You do not need to bring anything!
Spices, oil, coffee, dairy products, pasta, lentils, beans …
– and in addition the current organic crops from our kitchen garden.
Maybe you are lucky and get some perch in the lake or find chanterelles in the woods? Don´t forget to bring your own fishing pole if you have. You will also find a few recipes that work well with the ingredients we provide.
What is there to do?
Ideally, we would like to answer: do as little as possible!
Take the opportunity to enjoy the environment and nature. Be mindful in what you do, listening to the birds and the wind, go for a walk in the forest or a trip on the lake with our canoes…
Enjoy the unique cultural environments with several km wooden traditional fence, large stone cairns, hay meadows and species-rich pastures where our sheep grace. You have access to the whole area from the forest to the lake.
internet
Down by the lake you find the tin castle where we serve breakfast.
Here we provide electricity, internet and Wifi. This one of our guests called our technical oasis :) Here you also can charge your handy or other technical equipment.
Up in the wood hermitage and the sleeping huts there is neither electricity nor internet.
toilets and showers In the Wood Hermitage and at the tin castle there are several urine separating toilets. Down on the farm, in the same building as the shop, there is also a WC and shower. Up in the woods, there are three showers heated by solar energy. Is there no sun so there's backup with gas.
how far is it from the car park to the wood hermitage
500m walk on gravel road. You can not drive up to the forest by car, so pack light, preferably in small backpack. but … if needed, we help with the transportation of persons or cargo.
I have never made a fire before
no problem! We show you how to do. It's kind of the idea that you'll take that knowledge home.
arrival and departure
Check in: 15:00-17:00
Check out: 11.00
can you cook in the cabins?
No! You are not allowed to cook in the cabins!
what should I bring ?
Not a lot actually!
Toothbrush, bathing suit, good shoes and outdoor clothing so you can walk through wet grass or woodland and sit by a smoky fire. A raincoat and a warm sweater.
Other handy things you could bring: fishing rod, flashlight, slippers for your hut, notebook, a good book to read, camera, (medicine )…
breakfast is served 9:00 – 10:00 in the tin castle down at the lake. Breakfast buffet with eggs from our own chickens and homemade sourdough bread.
when is the store open ?
After breakfast, the shop is open from about 10-11.00.
Here you can also find other great memories to bring home with you.
We sell nature-inspired fabrics with our own design, sheepskin from the farm's sheep and things for the woods, like lanterns, good knives, lovely soaps …
allergies /dogs You are not allowed to bring any dogs or any other pets to your cabin!
Exception: we allow dogs in the mosstemple if needed. If you are allergic to dogs you therefore should not book the mosstemple.
organic? Absolutely!
Can I bring my children?
Kids love to be here! Often they do not want to go home …
For there is nothing better than to make a fire and then sit by the fire and cook over the open fire. …
Or pick mushrooms or berries in the woods and go fishing. Pet Hailey, the dog, visit the funny hens, take a bath in the lake or a trip out on the boat are other things to do. Or locate the lemonade tree, and if you're lucky maybe it's the season for lemonade …
Down at the lake we also have a kids – treehouse to play in.
The Glade, Moss temple, Wolf Cot and new tree house (big Raven Nest) are huts suitable for families!
will there be any additional costs?
Everything here is included in the price but "extras" (meat, beer, wine)
Beds are made and towels included. Use of boats or life jackets is included. Firewood and charcoal are available and you can light a fire in the sauna when ever you want – if you want.
A lovely organic breakfast buffet is also included of course! Feel at home!
payment
All bookings are paid in advance directly on the website. If you are passing by and would like to book the same day? No problem – if space is available – you can pay here in the store instead.
Other tips to do in the close surroundings
There are many fine small nature reserve in the municipality. We can advise you and provide brochures and maps.
– Tåkern is a world famous birds lake. There is a newly built visitor center , Naturum Tåkern, with a nice exhibition. (about 15 min by car from Urnatur).
– Vättern with its cold, deep crystal clear water and Omberg mountain and Alvastra monastery ruins are within biking distance.
–  Visingsö, Gränna and Vadstena are cozy places wortwhile visiting, located within a radius of 30km.
– the trail "Östgötaleden" passes Urnatur – pack your backpack and go on tour through the countryside starting or ending at Urnatur.
family
reunion
Is
the family
spread
throughout
Sweden
,
or even
the whole world
?
Invite
them for a
great time
together
,
enjoy both the
beautiful
Swedish
nature
and
a
wonderful
community with
your loved ones
.
Read
even
more
in
"groups."
If you have
additional
questions
, please contact
us.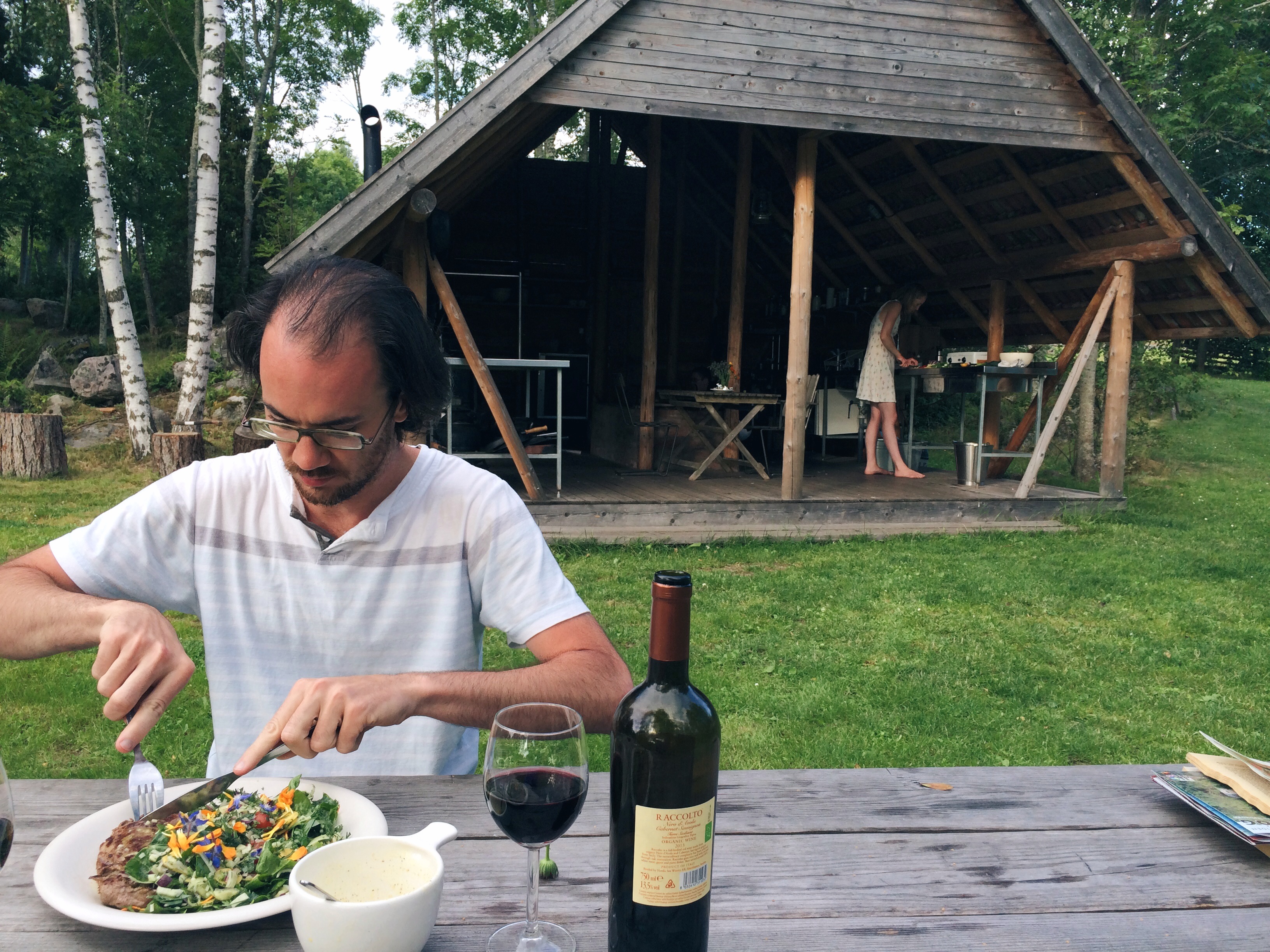 | | |
| --- | --- |
| outdoor kitchen | photo: Bethany Newman |