Look deep into nature, and you will understand everything better.
Albert Einstein
sorry – due to covid we don't have any events this year!
The forest is in focus more than ever before. Everyone pulls and tugs at it. The forest industries want their raw material for paper, biofuel and now some suggest that it should be cut down to save the climate. After the forest is taken down with clearcuts it is replaced with spruce plantings. Monocultures with a poor biodiversity that really should not be called forests because they do not have much in common with the natural boreal forest ecosystems.
Here at Urnatur we have a completely different view of the forest and its values. We use wild plants for food, medicine and almost forgotten old crafts. We value the forest and the open landscape as a place for mental recovery and we strive to preserve our lands as a pleasant home for all other animals and plants that also live here …
Welcome to our rewilding workshops, retreats and activities in our beautiful forest & nature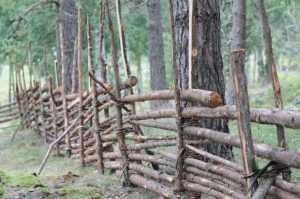 traditional fencing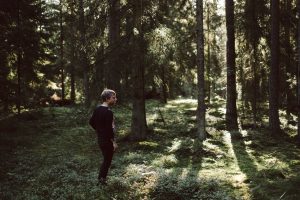 forest bath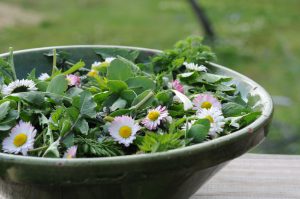 wild herbs for food & medicine
gärdesgård 
Traditional fencing with only natural materials – both beautiful and practical! 
On Saturday you will learn the basics of how to build a traditional fence of spruce and juniper. You learn how to warm twist the branches and to understand the "system". Håkan has built about 4 km of gärdesgård at Urnatur. He teaches tips and tricks on how split the wood and how to build straight fencing, corners and turns.
have a look at the woodlanders film about Håkan building gärdesgård as a teaser :)
leader: Håkan Strotz
No previous knowledge required.
date: 25/4 2020
time: 10.00 -17.00
price: 1500,- SEK
gärdesgård ( – day 2)
Traditional fencing – On Sunday the focus is on building gates.
We also go for a walk and look at how we have solved difficult passages in different places. On Sunday there will also be time to go and collect branches. What to think about to find good quality branches? And how and where do you get good spruces and juniper material for the fencing?
We will continue to build the yard if there is enough time.
leader: Håkan Strotz
No previous knowledge required, but also choose day 1 if you want to learn how to build the fence itself!,
date: 26/4 2020
time: 10.00 -17.00
price: 1500,- SEK
Forest Bath with Åsa Ottosson
Follow with author and nature guide Åsa Ottosson into the beautiful forest at Urnatur. We spend the day with nature meditation engaging all senses for full relaxation, trying qigong, resting in hammocks under the trees, eating lunch by the campfire and doing other things that body and mind need to restore koncentration and feel good and relaxed in general. You will also be invited to listen to Åsa's story about her trip to Japan, the homeland of shinrin-yoku.
guide: Åsa Ottosson
No previous knowledge required.
date: 9/5 2020
time: 10.00-17.00
price: 1500,- SEK
foraging wild herbs for food and spring detox 
May – the most fun time to gather wild plants!
Now the supply of wild primers huge. Also they are free, beautiful, tasty  and salutary!
We go out to forage flowers, shoots, herbs and "weeds"…
Many herbs also have a medicinal effect and spring is the best time to detox – everything you need for it is out there …!
We make a wholesome drink, pick herbs for teas that do good for body and soul and together we cook a meal over the open fire based on what we find …
guide: Ulrika Krynitz
No previous knowledge required.
– you don't need to bring any lunch as we cook together!
date: 16/5 2020
time: 10.00 -17.00
price: 1500,- SEK
bark – a forgotten resource
Rarely do you think of bark as a resource. And even less as a delicacy. Yet it has been so important! However, the bark has received a stamp of ill-tasting emergency food since past times of war and starvation.
But now it gets its revenge. We will show you how to make super tasty and useful bark flour from pine bark and bake bark bread together.
leader: Ulrika Krynitz or Håkan Strotz
No previous knowledge required.
date: 6/6 2020
time: 10.00 -17.00
price: 1500,- SEK
Forest Bath with Ulrika
Discover and experience the healing powers of nature! 
Today we will experience the forest with all our senses. This is what we call a forest bath – something everyone should try from time to time. Let me guide you through a totally unwinding and rewilding experience. Like the animals in the forest, we will listen in, breathe, move quietly and carefully. Rest for lunch at the campfire. Reconnect to nature and yourself – and have fun!
guide: Ulrika Krynitz
No previous knowledge required.
date: 22/8
time: 10.00-17.00
price: 1500,- SEK
FAQ
You can book our courses with or without overnight stay.
But of course we recommend that you also book accommodation so that you really get the most out of your time at Urnatur…
The food
You can book food and accommodation (nature nights) separately from the course. Check the course dates, go to the "book" – "nature nights" tab on the website, select the number of people you want to book, and press> "search". The vacant cabins that are available will then come up as well as price.
NOTE: If you only book a course without an overnight stay, you bring your own lunch unless else stated in the course description.
Other participants who live at Urnatur make their own lunch bag at breakfast which we bring with us for lunch (sandwiches, eggs, fruit).
We fix thermos with tea and coffee and some little "fika" for all participants.
Urnatur and Renemolund
is located near Ödeshög in Östergötland surrounded by an ancient cultural landscape with grazing animals. We meet at Urnatur's parking and leave at 10.00 am so please be in time.
Equipment Tips
Bring nice casual durable warm outdoor clothes. Rainwear to pull over. We are outdoors most of the time. Good shoes for bad weather. 
Other
Our courses and retreats are conducted in both English and Swedish if we have foreign participants.
the courses are adapted for adults if nothing else is said in the description. Please contact us before booking if you want to bring children.