Farm & surroundings
We want our little farm Sjögetorp to be a living organic farm, with animals grazing the natural ancient pastures. With time our ambition is to both keep and maximize biodiversity in all ecosystems on the farm. you could call it biodiversity farming. We call ourselves producer of biodiversity.
We keep the old breed "pälsfår", a kind of sheep with the most beautiful skins and tasty meat. Without the sheep, our cows and horses we could not maintain the rich biodiversity of this place. To favour the endangered species that belong to our meadows, we are making hay with the scythe and other methods in late July as in old times so the seeds can sow back in again.
We like to use local traditional materials and techniques. Therefore Håkan has built about 5 km of beautiful traditional "gärdesgård" fences that border our pastures and fields. They are made of spruce, sprucetwigs and juniper. Thanks to working with tourism we can afford to put some extra time on nature conservation. A win-win situation for both nature, our guests and us.
Taking care of the planet – holiday without bad conscience or climate anxiety
A visit at Urnatur also means you are contributing to maintain biodiversity at our place and counteracting climate change – provided you have traveled climate-smart to our place… 
Eco tourism
Eco tourism is responsible travelling that actually contributes to the nature conservation. The International Ecotourism Society defines ecotourism as responsible travel to natural areas that helps to conserve the environment and the well being of the local people.
This means:
– To have fun on your holiday.
– Not to damage or wear out what you have travelled to experience.
– To contribute actively to nature preservation and local culture.
– To help make the local economy profitable.
– To stimulate visitors curiosity and respect for place and people visited.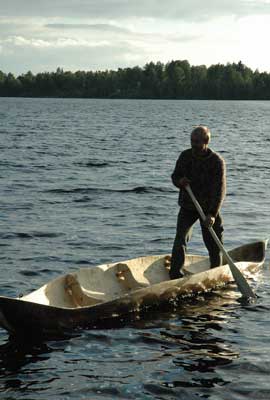 Lake Visjö is also being called "little Tåkern" as there are many species here you also can find at famous lake Tåkern not so far from here. Here are some nesting boxes for owls put up in the area.