Our hand timbered cabins & huts in the Wood Hermitage
Charchoaler's hut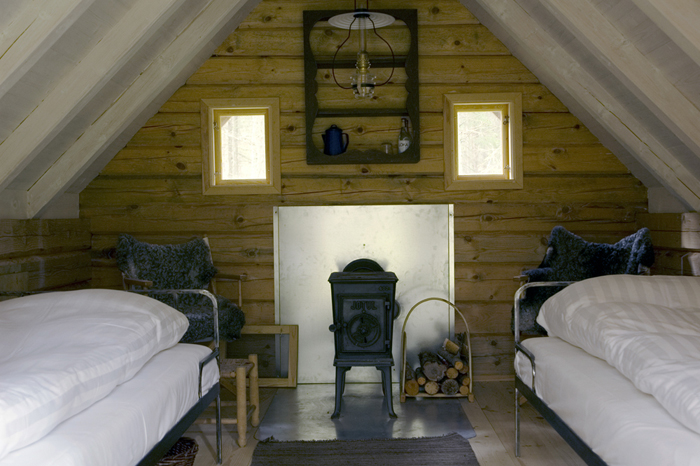 (2 single beds)
The hut is inspired by ancient charcoaler's huts with a timbered frame and turf roof. The hut with its mossy roof vanishes into the surrounding forest. Originally these huts were built as protection against wild animals, weather and wind, with at least the means for cooking a cup of coffee. The charcoalers hut is – just as these huts used to be – small, dark and hence very cozy. To emphasize its simplicity, its Spartan feel, we have designed and built iron beds with a gulag-feel for the hut. The hut offers a roof over your heads and warmth. An earthy shelter for those who really wish a break from the everyday life.
Hat cabin
(2 single beds that can be pulled apart)
The hat cabin is a six-cornered bole house with a copper roof. All furniture is designed and built by Niclas Hallberg for Urnatur, inspired and cross-pollinated by Japanese style and Swedish craftsmanship. The cabin is spacious with a high ceiling and a chandelier that lights up the room. Beds can either set into a double bed or pull apart into two single beds. Ravens are hovering above the copper roof.

From the hat cabins guestbook: Beautiful, wonderful and totally renewing. Thank you for having us here at Urnatur. The hattstuga was just perfect. We slept and rested like babies. Loved meeting you and the other guests. Loved swimming, row-boating, showering in the sunshine, feeling the soft mossy earth, listening to the birdsongs at dawn, breathing in this leaf-filtered air. This is how life should be! All the time. Thank you for inspiration that we will take with us back to Stockholm and beyond. We look forward to returning this autumn. Until then, be well //Bethany & Alfredo  
the forest hut

All the huts are hand build by Håkan Strotz, the owner. Here you can see the marks of the axe. Even this wooden lock of the pilgrims hut is hand built.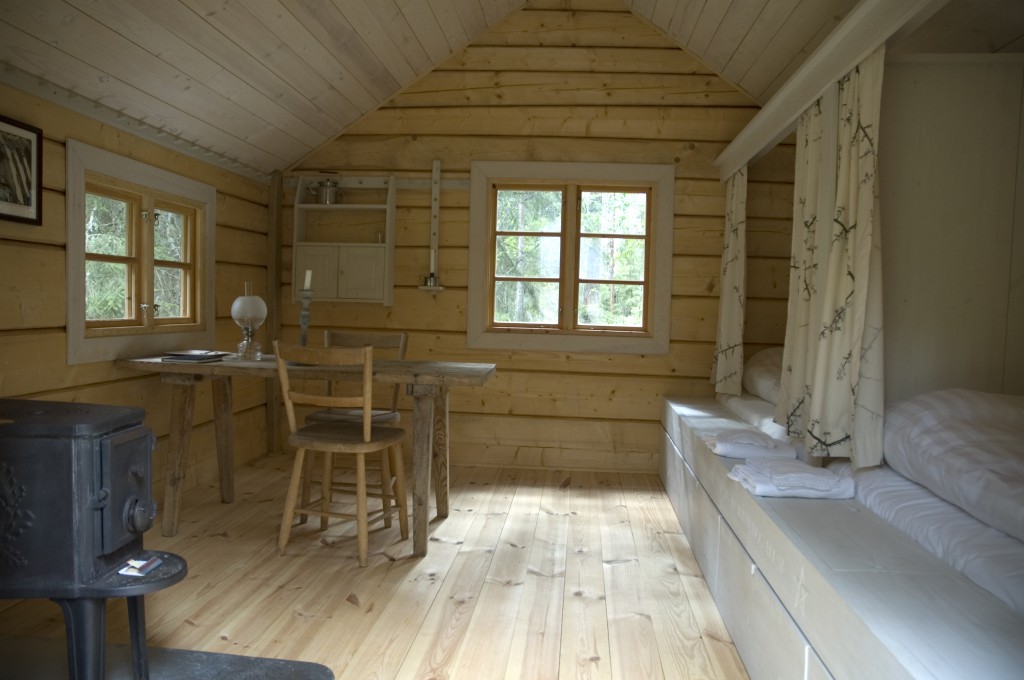 This hut is our most traditional in its style. Curtains with design by Ulrika Krynitz and some wooden details inspired by Amish culture. There is a wood stove in every hut.
(2 single beds)
This traditional bole house is actually a mixture of various cultures. With a sober Swedish-Amish inspired inner decoration, details painted with egg tempera, the forest hut probably boasts the most traditional cabin-feel of them all. The cottage has two cozy built-in beds with drawers for storage and Ulrika's blackthorn–patterned curtains that can be drawn and an inscription quoting H D Thoreau. The roof is a Russian-inspired design with tarred boards. In summertime when the sun is hot you can sense a faint scent of tar in the air.
from the forest hut guestbook: I really like this hut!!! I want this in Japan!!! I don´t wanna leave here!!! Even there isn´t any electricity //Namie from Japan  
Moss cabin & Wolf cot

a place for four adults – or a family. In the middle an open fire place. Inspired by the Sami culture in the North.
(4 single beds/ cabin)
Both cots have peat roofs and a timber frame, inspired by the Sames timbered cots. Besides the wood stove, you will also find a central fire place for an open fire. Summertime the cabin's roofs are covered with wild strawberries. Wolf cot is "more modern" and lighter, while moss temple is darker and in the forest. The interior of the moss cabin is mossy of course…
The cots have four beds – perfect for a group of friends or family with children.
from the wolf cots guestbook: What a wonderful time we had…Making fires, picking wild strawberries, foraging for mushrooms, rowing boats in the sunset, sitting in the sauna & talking to enthusiastic & super knowledgeable hosts. Thank you for your hospitality and for bringing Urnatur into existence. May it continue to thrive.