Large areas of Sweden are covered with forest.
Here we pick raspberries and mushroom.
Here we dream of sitting at a little camp fire…
Here you can be yourself, leaving the rush and tear of the city behind you.
You can feel your absolute presence. Scents. Reflect upon the light, the fresh moose prints.
A creak – you stop, listen, look around and wait and see before you proceed.
Just like a roe deer.
Just like the primitive man inside you.
In the wood hermitage you can stay on in that presence a little longer…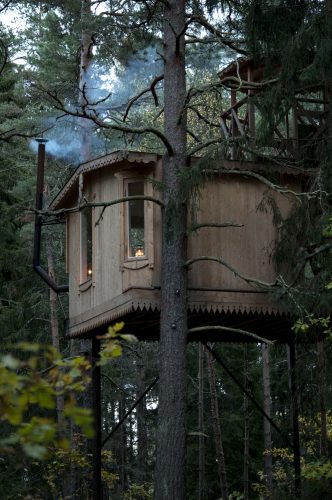 hermitage: "a place for reflection"
What

is

the

Wood

hermitage

?

The Wood Hermitage is part of Urnatur.  We distinguish between what we call the Wood Hermitage because it is a 500m walk from the farm up to the woods. It's up here all cottages and treehouses for overnight stay are.
In the hermitage there is no electricity or internet. If it gets cold in the cottage, you light the fire in the stove, when it gets dark, you light candles & lantern.
You can not go by car to the wood hermitage. Pack small or in a backpack so it will be easy to carry up to the cottage.
If you have a lot of luggage or difficulties walking we gladly help to transport you and your luggage to your hut of course.
How the Wood hermitage came to be
When we, forester Håkan Strotz and biologist and designer Ulrika Krynitz, bought the small farm Sjögetorp in 1993 we had no plans for a wood hermitage. It was the scenic beauty that brought us here. With strong shared interests in nature, crafts, ethnobiology, survival, design, self-sustainability and cooking, the project slowly but surely took form. First in our thoughts, then in practice.
After several years of practical experience with courses, seminars, lectures, kick-offs, exhibits, craft festivals and other events we missed having beds for overnights. It was a good excuse for Håkan who always wanted to try timbering. The idea was to offer a fantastic nature experience to our parent's generation, with their demands for a good night's sleep, and to city people who might not have so much nature experience if any. But also of course for already converted nature lovers from all over the world.
Nobody believed in this really. "People need their WC and TV …" and it was difficult to communicate our vision as there excisted nothing similar. People from the village kept asking about the stone-age village and viking-housings when we finally decided this place would need a unique name – as a statement of something new: the wood hermitage was born.
In 2003 we felled the first tree of what was to become the main cabin (storstugan). The storms Gudrun (2005) and Per (2006) affected us too. Most other houses are built from the storm-felled trees that was lumbered on the farm using a mobile mill.
All houses are designed and built from scratch by Håkan himself. Urnatur opened the doors in 2007 to the wood hermitage. The place in itself is a vision that has come true: the ultimate place for relaxation and reflection, but also a meeting place where friends can gather, revisiting memories and giving birth to new thoughts and ideas.
Ulrika has contributed a lot of ideas, details and the coloration and interior decoration. It was collaboration between Yin and Yang. And naturally you can find both carpets, curtains and other detail of our design both in the huts and in our shop.
The luxury of simplicity
"You can't describe the wood hermitage in words. You have to see it and experience it."
That is a recurrent comment from visitors who return bringing their friends, colleagues and family to our facilities. Here, in the Holaved forest, you can enjoy the luxury of simplicity, living in unique hand-crafted cottages, or in a tree house, without electricity. Sit down by the fireplace and enjoy the moment. The soft light of the kerosene lamp and the scent of boiled coffee readily guide you to intimate conversations, far from everyday pressures.