for press & media questions please contact us!
written about Urnatur:
Artikel i kloka hem 3/2018:
text MARIA RINALDO
foto GUNILLA WELIN
"Ulrika Krynitz och Håkan Strotz lever som de lär. Både deras företag och deras hem genomsyras av övertygelsen att använda de resurser som finns där man befinner sig. I deras fall har skogen varit både en källa till inspiration och inkomst."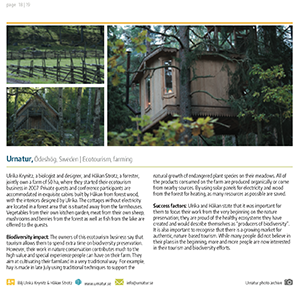 read about Urnatur as one of the PBB pro biodiversity businesses that generate financial returns and at the same time makes positive contributions to nature conservation in the EcoKarst– brochurehttp://www.interreg-danube.eu/approved-projects/eco-karst/outputs
Visit Östergötland
höst/winter 2014

 Ett med naturen
Naturälskare från hela världen vallfärdar till Sjögetorp
Camino 36, september – November 2014:
Skogen / skyddas eller skövlas?
läs artikel "Semester i trädtopparna"  
 härtext: Caroline Pettersson
bild: Daniel Johansson
till Camino´s hemsida 
Mossa – Massa – Människa
en kärleksförklaring till skogen
årets bok från naturskyddsföreningen 2014läs: Sverige står inför ett vägvaltext: Håkan Strotz
the ANTHROPOLOGIST
"In Swedish, urnatur means "ancient nature." It also is the name of a breathtaking retreat in southern Sweden, hand built by proprietors Håkan Strotz and Ulrika Krynitz.
The landscape and lifestyle of Urnatur toe an uncommon line, one that wavers between the spare modernity of its structures and the raw utility necessary to thrive there. However, to be understood it must be seen — so come, and see."